Prep Time: 1 HOUR
Serves: 1
Cook Time: 50 MINUTES
Ingredients
Chicken Ingredients
2½-3 lbs Whole chicken legs, skin removed, trimmed and cut into thighs and drumsticks
1/2 cup Stonyfield Organic Whole Milk Smooth & Creamy Plain
1 Tbsp Dijon mustard
2 Cloves garlic, minced
1 tsp Hot sauce
1 1/2 tsp Paprika
1 tsp Dried thyme
1 tsp Baking powder
1/8 tsp Salt
Freshly ground pepper, to tasteOlive oil cooking spray
1/2 cup Whole-wheat flour
Waffle Ingredients
3 Eggs
1 1/2 cups Stonyfield Organic Whole Milk Smooth & Creamy Vanilla Yogurt
1 1/4 cups All-purpose flour
2 tsp Baking powder
1 tsp Baking soda
1/2 tsp Kosher salt
1/2 cup Softened butter
3 Tbsp Maple syrup
Instructions
Whisk Stonyfield Whole Milk Plain Yogurt, mustard, garlic and hot sauce in a shallow glass dish until well blended. Add chicken and turn to coat. Cover and marinate in the refrigerator for at least 30 minutes or for up to 8 hours.
Preheat oven to 425°F. Line a baking sheet with foil. Set a wire rack on the baking sheet and coat it with cooking spray.
Whisk flour, sesame seeds, paprika, thyme, baking powder, salt and pepper in a small bowl. Place the flour mixture in a paper bag or large sealable plastic bag. Shaking off excess marinade, place one or two pieces of chicken at a time in the bag and shake to coat. Shake off excess flour and place the chicken on the prepared rack. (Discard any leftover flour mixture and marinade.) Spray the chicken pieces with cooking spray.
Bake the chicken until golden brown and no longer pink in the center, 40 to 50 minutes. Chef's Note: While the chicken is cooking - make the waffles using a waffle iron
Preheat a waffle iron and brush on melted butter. Beat eggs and softened butter in a large mixing bowl, then add Stonyfield Whole Milk Vanilla Yogurt, maple syrup, flour, baking powder, baking soda, and kosher salt, mixing until smooth.
Pour batter onto hot waffle iron. Cook until no longer steaming, about 5 minutes.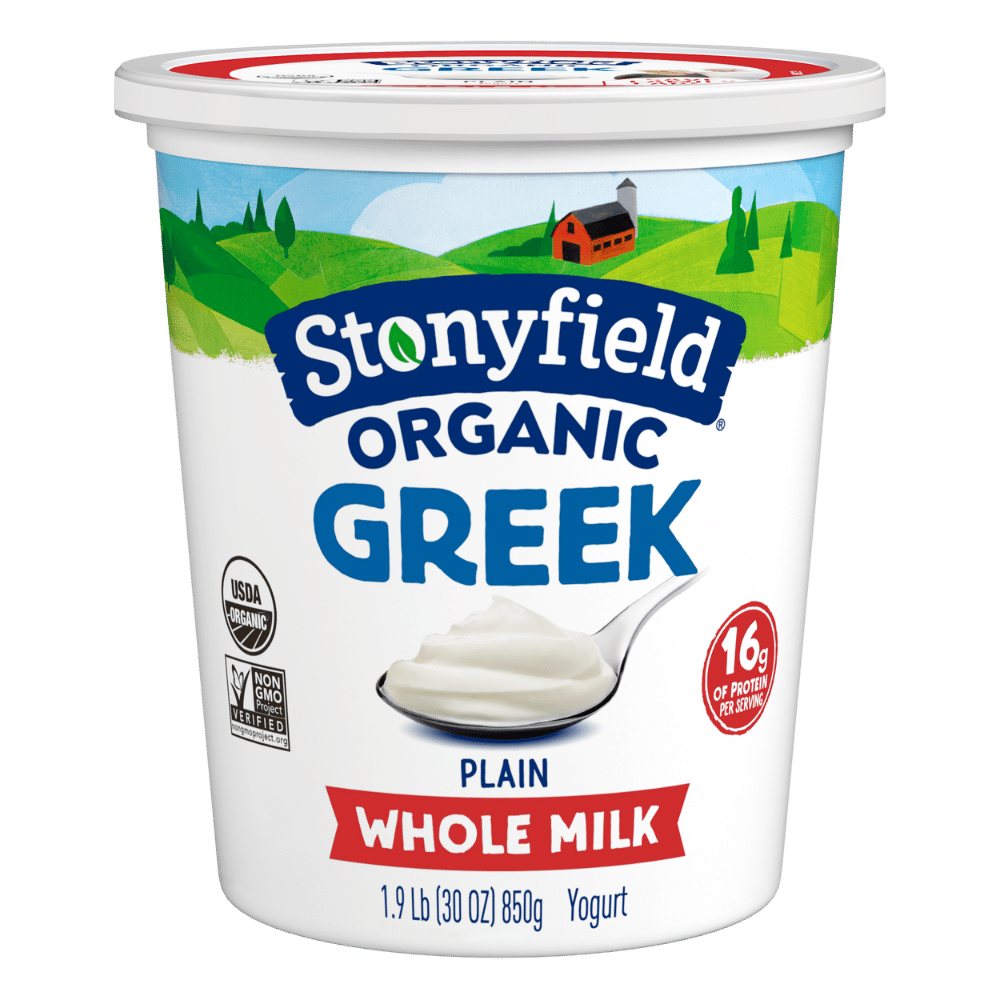 Want delicious recipe ideas in your inbox?
Sign up for our newsletter to get recipe ideas in your inbox!