Mango-Banana Frozen Yogurt Smoothie Bowl
October 3, 2016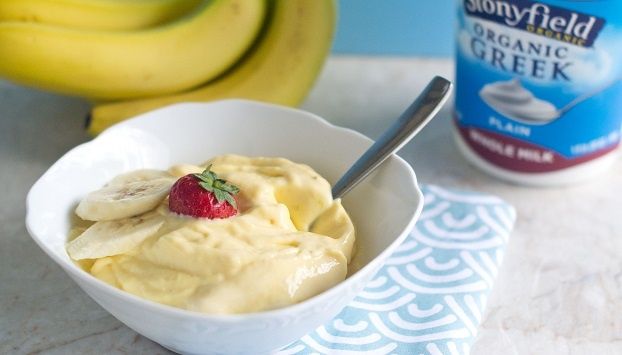 Smoothie bowls are all the rage these days. Of course they are! They're delicious and easy to make.
For me, the key to a great smoothie bowl is that the smoothie mixture needs to be really creamy, decadent, and really thick. I want my toppings to sit on top of it, not to sink down below and this Mango-Banana Frozen Yogurt Smoothie Bowl does just that!
I also love it when the smoothie part is really icy, when it has the texture of frozen yogurt rather than that of apple sauce. Mmmm…frozen yogurt for breakfast…yes.
I decided to come up with a smoothie bowl recipe that really appeals to those creamy, thick, and icy preferences of mine… This one does the trick. It has Greek yogurt for that creaminess and then most of the remaining ingredients are frozen to make sure that it's a dreamy thick and icy treat.
This is a very basic recipe that gets the base of the smoothie bowl exactly right. From there, you can add all kinds of things. To the smoothie mixture itself you can add more fruits (ideally frozen ones), avocado, spinach and kale. Another great addition is to go in with an extra protein ingredient on top of what you're already getting from the Greek yogurt. Try adding protein powder and nut butters.
Then to the top of the smoothie bowl, there are so many things you can add. Muesli, granola, and nuts are pretty typical. My kids aren't big fans though (I know, weird, right?) More "normal" cereal is their style. So, toasted O cereal or some kind of flakes make their way on top. Plus some more fresh sliced fruit.
A little chocolate drizzle might just be in order too. Ha! Now we're having Sundaes for breakfast. Does it get any better than this?
Mango-Banana Frozen Yogurt Smoothie Bowl
Servings: 1
Prep Time: 10 minutes, Cook Time: 0 Minutes, Total Time: 10 minutes
Ingredients
½ cup whole milk Greek yogurt
1 frozen banana
1 heaping cup frozen mango chunks
1 Tbsp. honey (optional)
1-4 Tbsp. water
Sliced fresh fruit and cereal
Directions:
Put the yogurt, banana, mango and honey into a blender. Start blending. Drizzle in water just until the mixture is wet enough for the blender to be able to puree it (the amount of water needed will depend on the strength of your blender). Puree until smooth.
Transfer smoothie mixture to a breakfast bowl. Top with cereal and fresh fruit.