Yogurt
Stonyfield Organic YoBaby Whole Milk Baby Yogurt Pouches, Banana & Oat, 4 Ct
Parents, we get it—finding food you feel good about giving to your baby can be a challenge. That's why at Stonyfield Organic, we created YoBaby Whole Milk Banana & Oat Yogurt Pouches with parents in mind. The handheld size of these yummy yogurt pouches is great for your baby's motor skills practice. The #1 Pediatrician Recommended yogurt for babies 6 months to 2 years among refrigerated yogurts,* our yogurt pouches help nourish little tummies with Omega-3 DHA, real fruit, vitamin D, calcium, prebiotics, and choline..
*IQVIA ProVoice Survey, 12/01/15‐08/31/22
Whole Milk
USDA Organic
Made with Pasture Raised Milk
Gluten Free
Live & Active Cultures
Prebiotics
Kosher Certified
Non-GMO Project Verified
Omega-3 DHA
Like all Stonyfield Organic products, YoBaby yogurt pouches are USDA organic certified. That means they're made without the use of toxic persistent pesticides, antibiotics, artificial growth hormones, or genetically modified organisms (GMOs)—things you don't want to worry about, especially in a yogurt for your baby. Try our full line of products for babies, kids, and adults, including yogurt cups, yogurt pouches, yogurt tubes, multi-serving yogurt containers, drinkable yogurt, dairy free smoothie pouches, and more.
Our Recipe
Cultured Pasteurized Organic Whole Milk, Organic Cane Sugar, Organic Banana Puree, Organic Oat Flour, Pectin, Algal Oil (Omega‐3 DHA Source)*, Natural Flavor, Organic Fruit & Vegetable Juice Concentrates (Color), Vitamin D3.
*Ingredient not found in regular yogurt.
Live Active Cultures
S. thermophilus, L. bulgaricus, L. acidophilus, Bifidus, L. paracasei.
Why are we obsessed with organic at Stonyfield? The answer is simple: We want our products to be good for you, good for the planet, and good for your taste buds. We believe in high-quality ingredients, irresistible flavors, and making our products without the use of toxic persistent pesticides. Learn more about why we're so passionate about being organic.
Nutrition Facts
This information is intended as a general guide to customers. While we try to ensure the most up-to-date ingredients and nutritional values are on our website, they may not match exactly with what is purchased in-store. The most accurate information is always on the product.
Nutrition Facts
Serving Size 1 pouch (96g)
Servings Per Container 4
Amount Per Serving
Calories 100
Calories from Fat
% Daily Value*
Total Fat 3.5g
12%
Saturated Fat 2g
Trans Fat 0g
Cholesterol 10mg
Sodium 75mg
Total Carbohydrate 12g
13%
Dietary Fiber 0g
Sugars 9g
Includes 4g added sugars
Protein 5g
45%
Vitamin D 1mcg 10%
Calcium 170mg 70%
Iron 0.1mg 0%
Potassium 240mg 35%
Vitamin A 20mcg 4%
Vitamin B6 0.04mg 15%
Folate 5mcg DFE 6%
Vitamin B12 0.4mcg 80%
Iodine 32mcg 25%
Zinc 0.6mg 20%
Choline 10mg 6%
Where to Buy
Gluten Free
Kosher Certified
Non-GMO Project Verified
Pasture Raised
USDA Organic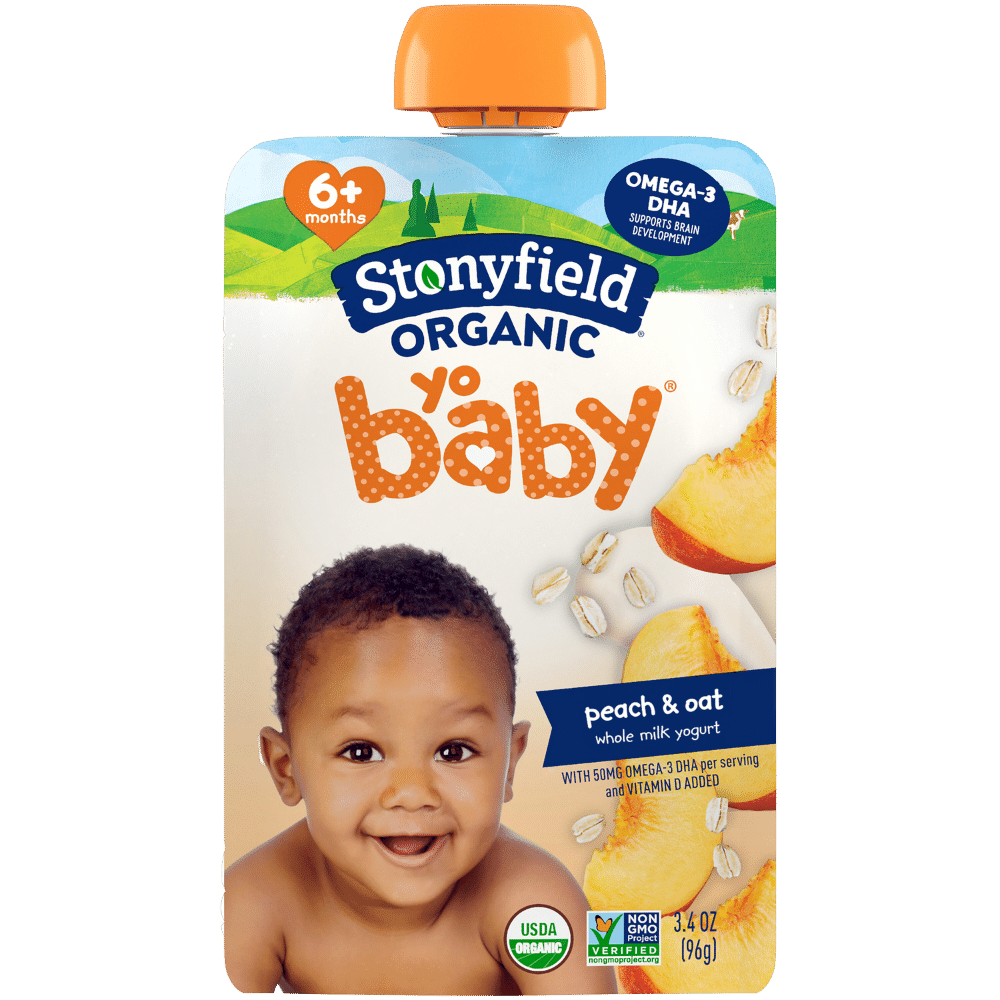 Want free tips for feeding your baby?
Sign up for our email newsletter and receive free resources, tips and tricks, and coupons.