How You're Helping 'Save Gen F' By Buying Stonyfield Yogurt
June 10, 2022
webmaster@push10.com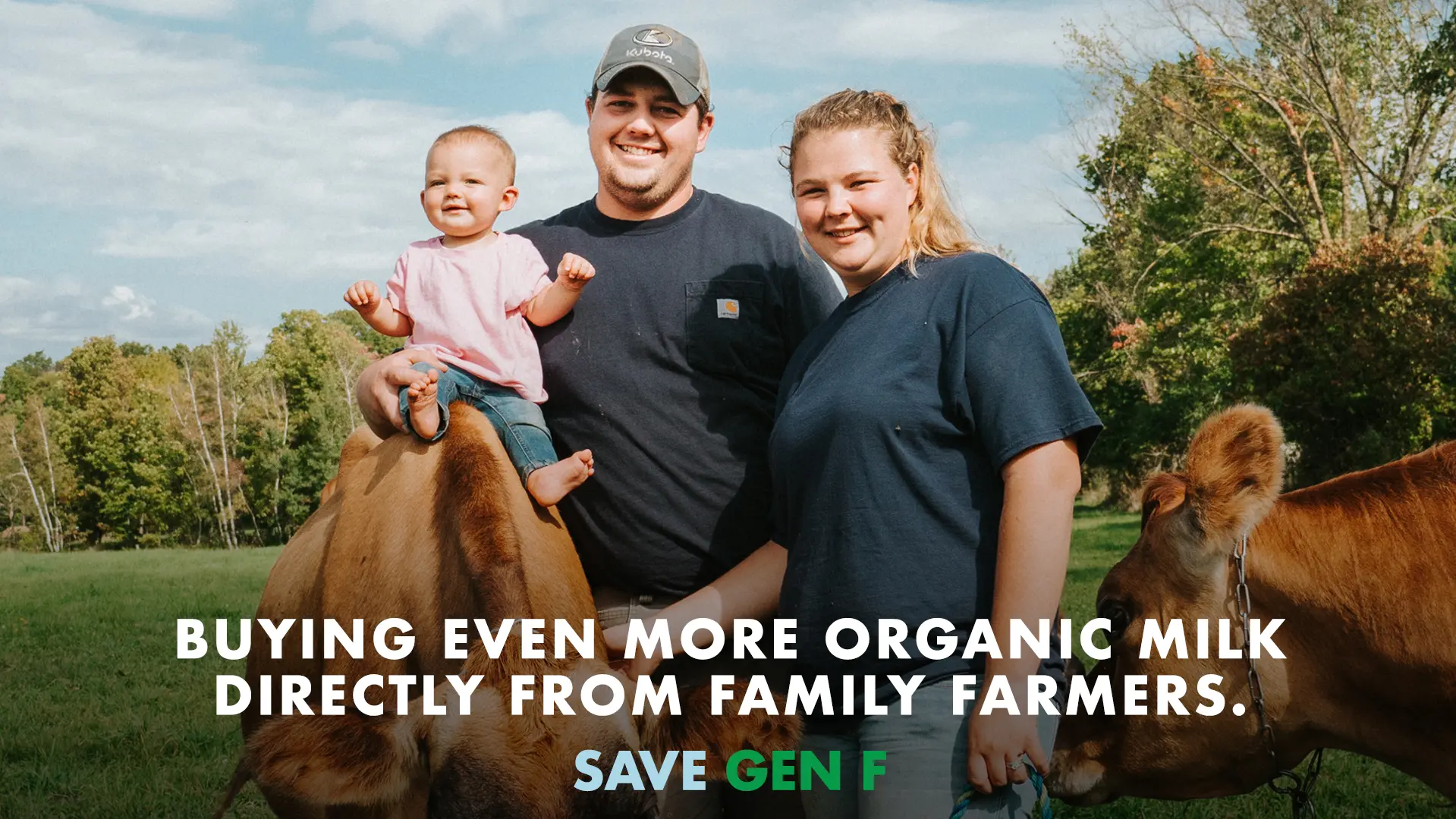 When you pop open the lid of your favorite Stonyfield yogurt, do you ever think about where that delicious snack came from originally? Do you ever wonder how much work went into that small cup? Have you ever wondered how purchasing a cup of Stonyfield Organic yogurt is helping "Save Gen F"?

From the soil to the cows, from the shipment to production, there's a lot that goes into each quart of yogurt you buy. And Stonyfield takes it to the next level by ensuring that its ingredients come from top-of-the-line organic sources… otherwise known as small organic family farms.
When you buy Stonyfield products, you're supporting family farms like Molly Brook Farm and Wonder Why Farm. In fact, Stonyfield supports over 200 small, organic family farms in the Northeast through its milk supplier relationship with Organic Valley, as well as its Direct Supply Program in the region. 
"Supporting organic family farms has been at the heart of our DNA since the day Stonyfield started as an organic farming school in Wilton, New Hampshire back in 1983," said Gary Hirshberg, co-founder and Chief Organic Optimist. 
Both Molly Brook Farm and Wonder Why Farm have been around for generations, and while things have changed a little bit over the years, the goal remains the same: to provide delicious organic milk for consumers. 
Molly Brook Farm, which has been operating since 1835, is a family-owned dairy farm based in West Danville, Vermont. The farm sits on 565-acres and prides itself on its Jersey cows. The owners, Myles and Rhonda Goodrich, started transitioning the farm to organic shortly after purchasing it from his parents in 2013. A few years later, Molly Brook Farm began shipping organic milk to Stonyfield.
"Our organic transition was not easy," Rhonda shared. ". . . With Stonyfield's help, we found a path forward so that we could continue farming. I wonder when Gary Hirshberg started Stonyfield all those years ago if he could have imagined how his company would so greatly impact a family farm like ours. Selling quality organic Jersey milk to Stonyfield saved our dairy farm."
Wonder Why Farm is a fourth-generation organic dairy farm based in Cabot, Vermont. The owners, Morgan and Jennifer Churchill, have farming in their blood ⁠— she's a 3rd generation dairy farmer (the daughter of Myles Goodrich) and he's 2nd generation. They milk 124 cows with a robotic milking system and sell the milk to Stonyfield.
"Farming isn't easy and is getting harder all the time," said Jennifer. "We don't mind working seven days a week or getting up at 4:30. This is what you sign up for when being a farmer. It is the fact that we are at the bottom of the chain. We have a set income and the only way to increase that is to make more of the best quality milk you can."
In order to continue operating, these farms need support from consumers like you and brands like Stonyfield. By doing this your helping "Save Gen F". They also need resources to help them operate sustainability and maintain organic standards.
"Stonyfield started our technical assistance program in recognition of the fact that farmers are in the best position to identify how to improve the sustainability of their own farm," said Britt Lundgren, Sr. Director of Sustainability and Government Affairs at Stonyfield Organic. "But sometimes farmers need resources beyond their usual operating budget to do things like reduce their impact on climate change or improve water quality.  This is why we provide every farm with around $4,000 annually that they can use towards improving the sustainability of their farm."
As a founding member of OpenTEAM, a farmer-driven community that supports farmers with tools and resources to improve soil health, Stonyfield is on a mission to help small family farms succeed sustainably. Stonyfield also provides technical assistance, funding, and mentorship to contracted farms so they can thrive.
For Wonder Why Farm, these resources have been valuable. The farm has been awarded a couple of grants that have helped them complete big projects like a new manure pit and a new freestall barn that houses 90% of their herd. Stonyfield's technical assistance funds have been available to help with immediate purchases like new milk storage tank, trucking feed, and nutrient management plan design. Not to mention, experts have been able to help them with milk quality issues, energy audits, and pasture management.  
"We work seven days a week and the work can be hard and exhausting," Rhonda explained. "Our farm's resilience has relied on the ability to evolve with every new era in farming for the better part of 200 years. Myles says it best, 'It's a challenge to make everything work together but also rewarding to have a healthy herd of productive Jerseys, fertile land, and to work with family.'"
With the rising cost of grain, fuel, and equipment, community support for these farms is more important than ever before. Choosing products at your local grocery store that use milk from organic farms like Wonder Why and Molly Brook helps support farmers like Jennifer, Morgan, Rhonda, and Myles. Each purchase helps to support their livelihoods and acknowledges their hard work to make high-quality organic milk.
"It is crucial to support the small family farms as they are the ones that graze and hay the rolling hillsides of Vermont," Jennifer said. "Without them, you will lose the landscape that makes Vermont home. Our farm supports three families that live local and support our rural economy."    
Stonyfield is proud to have a relationship with these farmers and will endeavor to do everything  it can to help them prosper. To learn more about Stonyfield's organic farming support, please click here. Thank you for supporting our farmers!
Yogurt is an amazing food. But Stonyfield yogurt is that and more. It's a statement: Taking care of organic farmers, cows, and their life's work will produce healthy food, healthy businesses, and a healthy planet.
Stonyfield Organic. Good on Purpose.®