First Veggies for Baby
May 20, 2013
webmaster@push10.com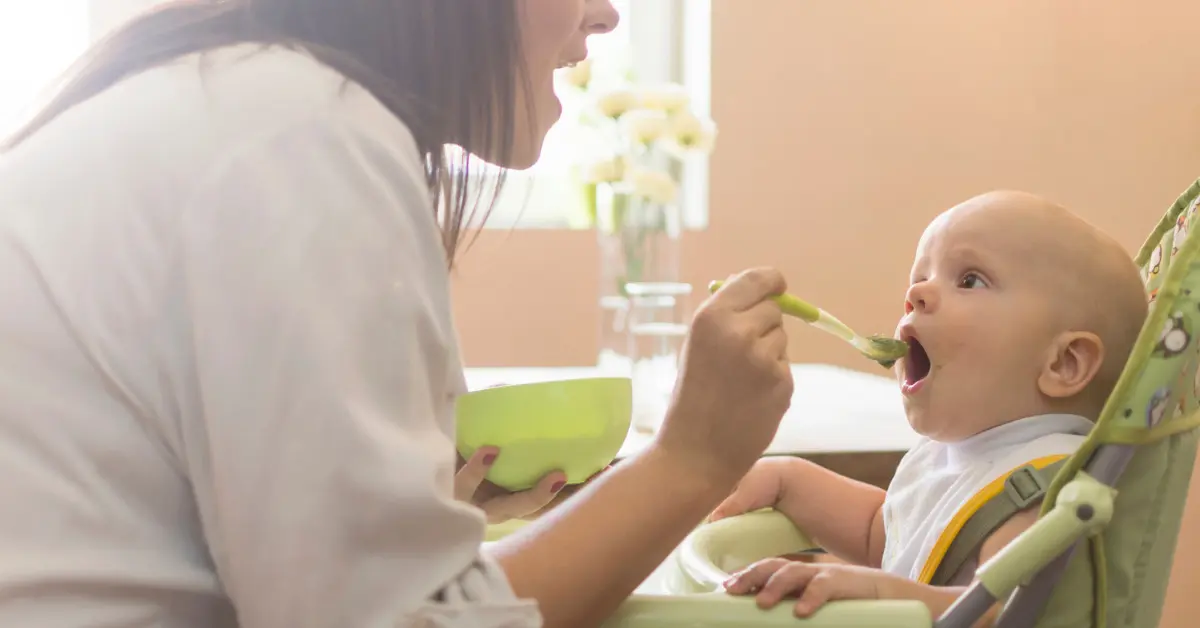 When baby reaches the solid-foods milestone, veggies are an obvious choice, as they're loaded with nutrients. But with so many options, which do you introduce to her developing palate first? Pick fresh, organic veggies starting with pureed mild flavors, eventually building to seasoned, bold fork-smashed options that are so tasty, you might steal a spoonful for yourself. Just make sure to check with your child's doctor before introducing any big changes to her diet.
Baby Steps
The transition from mother's milk to veggies can be tricky. Green beans have a mild flavor and are a great first veggie to introduce to babies between four and six months as they begin their culinary exploration. While Jill Castle, M.S., R.D.N., childhood nutrition and feeding expert, doesn't shun canned green beans, she recommends a fresh, organic selection. "They are easy to cook and puree in a blender with a little chicken broth or olive oil to flavor them," she said. "As baby gets older, steam them soft and let baby self-feed and practice motor skills."
Real Raw Goodness
Most greens have to be steamed or cooked to serve to babies. However, English peas can be cooked or served raw. This is great because when you cook veggies, you can lose a lot of the important enzymes babies need to grow strong and healthy. A serving of raw organic English peas contains vitamins A, C, K, B1 (thiamin), B2 (riboflavin), folate, iron and zinc. Raw English peas are a no-brainer veggie to introduce to babies between four and six months of age. They're also perfect for babies with on-the-go parents.
The Other Potato
Sweet potatoes are a delicious deal. This veggie, which can be introduced as early as four months, is loaded with nutrients, including vitamins A, C and B6 as well as iron, thiamin, potassium and phosphorus. "It's a nutrient powerhouse for baby," said Castle, co-author of "Fearless Feeding: How to Raise Healthy Eaters From High Chair to High School." Roasted, boiled, pureed or fork-mashed, sweet potatoes are so healthy and sweet, they can even double as dessert.
Green Power
Broccoli is a mouthful of goodness. In fact, broccoli and other cruciferous vegetables contain isothiocyanates [ITC] that are essential for the antioxidant response element in cells. Since broccoli can be a little tough on a baby's tummy, it's best to wait to introduce this veggie at around six to eight months. (Here, as elsewhere, the recommended age depends on the individual.) "Some babies may still be on puree, but most likely, you're stepping up the texture at this age, so use a fork to mash broccoli for a coarser, lumpy consistency," suggested Castle. "And don't be afraid to branch out with flavor when cooking veggies, using garlic, vegetable broth or spices to expand your baby's palate to a wider variety of flavors."
Versatile Squash
Between six and eight months of age, tantalize baby's taste buds with squash, including pumpkin, butternut, spaghetti or acorn varieties. Whichever the type, you will be giving baby important nutrients like vitamins A, C, folate, potassium and manganese, Castle points out. This versatile veggie is easy to puree, fork-mash or dice into small cubes for more advanced self-feeders. Cook it with organic maple syrup to give your child a sweet treat.
No matter what food you're introducing, patience and a positive, relaxed attitude are perhaps the most important ingredients for ensuring that your baby develops healthy eating habits.
Author Bio
Paula Carvajal has been a journalist since 2007. She has worked for Malibu Magazine, Us Weekly and Cambio, covering major award shows and events such as the Oscars, Golden Globes, Grammys and New York Fashion Week. Carvajal received her Bachelor of Arts in communications and Spanish from Santa Clara University, as well as a Master of Arts from the University of Westminster.
Disclaimer: The views and opinions expressed in this post are solely those of the author and do not necessarily reflect the opinions and views of Stonyfield. The content provided, and in any linked materials, are not intended and should not be construed as medical advice. If you have any
questions about health or nutrition, we always think it's best to consult with your doctor or healthcare practitioner.