First Fruits for Baby
March 31, 2013
webmaster@push10.com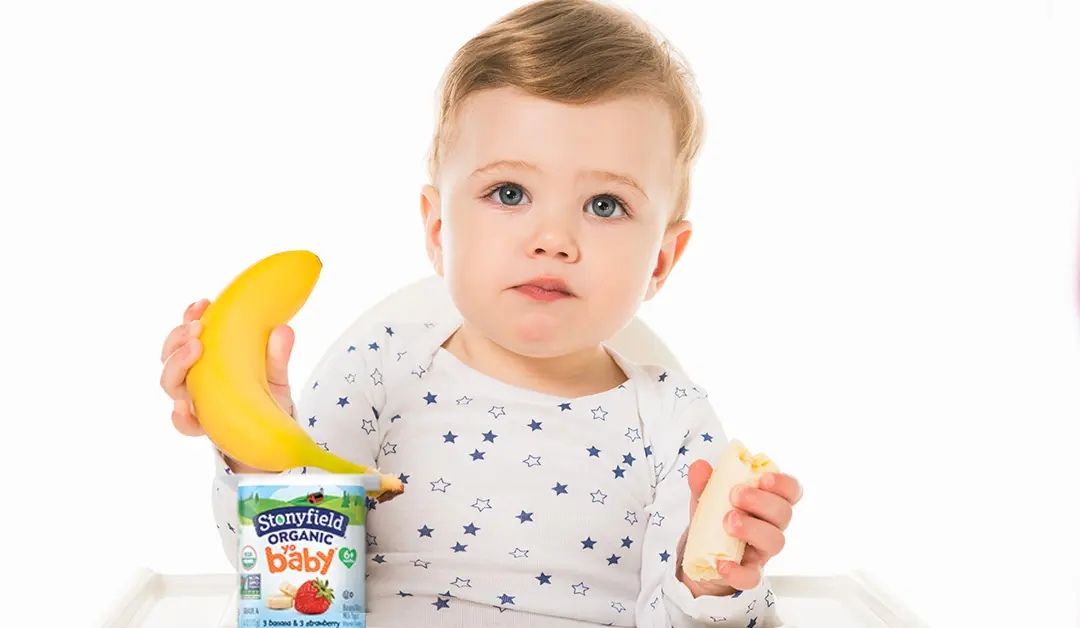 Mom always said to eat your veggies, but don't forget about fruit! Many fruits are easy to mash, dice and mix into child-friendly preparations, plus they provide important vitamins and nutrients babies need to grow strong and healthy throughout their first year. Of course, always check with your child's doctor before trying anything new to rule out allergies or potential ill effects.
Bananas
Almost every baby's first food is the banana, and there's good reason why. "Bananas are mild, mashable and easy to chew. They're loaded with vitamin C, vitamin B6 and potassium, making them a perfect first fruit for baby," says Jill Castle, M.S., R.D., childhood nutrition expert and co-author of Fearless Feeding: How to Raise Healthy Eaters From High Chair to High School. Bananas can be introduced as early as four months of age. They can be quickly mashed and served on their own (perfect for parents on the go) or mixed with breast milk or formula. As your baby gets older, bananas can be sauteed, mixed with other fruits or combined with brown rice or hot cereal.
Avocados
Although green and commonly thought of as a veggie, avocado is actually a nutrient-rich fruit full of vitamin C, vitamin K and folate. You can introduce avocados into your baby's diet at four to six months. "My favorite thing about avocado is its fat content," says Castle. "Babies have rapidly-growing brains and need a high amount of fat in their diet during the first year. Avocados are a delicious way to help baby meet those needs." One scrumptious, and surprising, way to prepare avocado is to mix and mash it with banana. It's so tasty, you might just steal a spoonful for yourself.
Apples
An apple a day truly can help baby stay healthy. "Iron deficiency is common among babies because they often 'grow out' of the amount of iron they're born with," says Tina Ruggiero, M.S., R.D., L.D., nutrition expert and co-author of The Best Homemade Baby Food on the Planet. "Once an infant is weaned, it's important to ensure that he or she is eating enough iron-rich food to compensate for the reduced iron intake from breast milk." Fruits particularly bountiful in vitamin C, like apples, help babies absorb iron. Pureed or grated, they can be introduced at six months and mixed with iron-rich foods like cooked veggies, egg yolks and brown rice.
Mangoes
Added to the diet between six and eight months, mangoes are an excellent source of vitamins A, B6 and C, as well as potassium, copper and fiber. This sweet treat can simply be mashed with a fork and mixed with veggies, organic yogurt or served on its own. As babies start to feed themselves, Castle suggests finely dicing mangoes to help them work on developing motor skills.
Cantaloupes
Sweet and juicy, cantaloupes are a well-rounded fruit to introduce to your baby's diet around nine months. This melon is plentiful in vitamins A and C and rich in antioxidants. Perfect for your little movers and shakers, it can be diced up for those starting to self-feed. Build texture into meals by combing small cantaloupe squares with brown rice and yogurt.
Overall, fruits have the double benefit of sweet taste and high nutritional value. When they're introduced to babies at the right time, and served with other nutritious foods, fruits can help them grow up happy and healthy.
Author Bio
Paula Carvajal has been a journalist since 2007. She has worked for Malibu Magazine, Us Weekly and Cambio, covering major award shows and events such as the Oscars, Golden Globes, Grammys and New York Fashion Week. Carvajal received her Bachelor of Arts in communications and Spanish from Santa Clara University, as well as a Master of Arts from the University of Westminster.
Disclaimer: The views and opinions expressed in this post are solely those of the author and do not necessarily reflect the opinions and views of Stonyfield. The content provided, and in any linked materials, are not intended and should not be construed as medical advice. If you have any questions about health or nutrition, we always think it's best to consult with your doctor or healthcare practitioner.